Networking isn't about cables and technical equipment — that's not the type of networking we're talking about at all. We're actually talking about the type of networking that can build your future — or destroy it if you're not careful. If you're trying to land a top job, you're going to need to make sure that you have top notch networking.
The most common question that we get is simple — when do you start networking? This is not a question that really makes sense, as networking is something that starts right away. Networking is something that starts when you're really ready to take on the world and you know it. Networking is something that should always be in motion. Every person you meet is a contact, and you need to figure out how you can make their lives easier.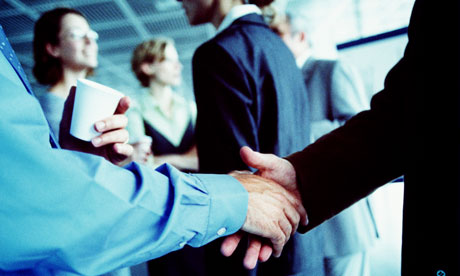 It's really all about them, you know. It might sound weird, but the more you focus on yourself, the less that people really want to deal with you. However, if you flip that around, you'll actually find that the more you work on helping other people, the more that they will connect you to other pieces of their network. This is because everyone loves to get a helping hand. They want to feel special. They want to feel that you truly understand what they're going through and what they're dealing with. On the other hand, if you were to only think about what you were trying to get out of everything, people can pick that up right away. Everyone wants to be helpful, but very few people actually want to be used. You'll learn this more and more as you go through life. You will see people be honestly hurt by being used up, but they absolutely love helping people. Do these things have to be one and the same? Not at all. It's quite possible to get a working arrangement that's satisfactory to everyone.
It can be hard to think about networking when everyone else is having a good time. But it goes right back to what we've discussed before — how bad do you want a good life? How bad do you want to be able to get all of the things that you want to get? With the right mindset, nothing is impossible. It is possible to get into all sorts of things that you might not have expected, because the world is so vast and filled with lots of opportunities. You just have to think about what you're ultimately trying to do. It's tempting to think that you will not have any trouble at all getting what you want, but the reality is that there will always be challenges along the way. [Read more…]