In Part 1, we talked about the 3 steps on the ladder that we go through whilst developing Visibility in the relationships that we have.
The first step is Awareness, that moment in time when people first come into contact with us. Either when they meet us in person or when they hear about us, in whatever way that may happen.
Step 2 is Familiarity. This is the point when people start to recognise you or your name. Interestingly, you don't have to actually meet people to get on to this second step.
Step 3 is when people start to Know & Like you. This is when the relationship is starting to develop quite nicely, ready to move it on to the next phase.
The next phase is all about building Credibility and the steps we need to move through in order to gain credibility in our relationships.
Steps 4 & 5
You know when you're on the 4th and then 5th 'rungs' on someone's relationship ladder when they start to display a level of Confidence and then Trust, both in you and in what you do. This is a very important development in your relationship and moves you in to the realms of having Credibility in this particular relationship.
People are very unlikely to refer a personal contact to anyone that they don't see as being credible. At least, not without making that referral with lots and lots of qualification and, effectively, removing any endorsement of the person being referred to their contact.
Given that the type of referrals we all look for are those that are accompanied by a powerful endorsement of us, and of what we do. Having a high level of credibility is essential if we want to achieve this.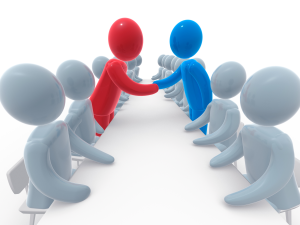 So what are some of the things that you can do to make sure that people develop Confidence and then Trust in you? [Read more…]